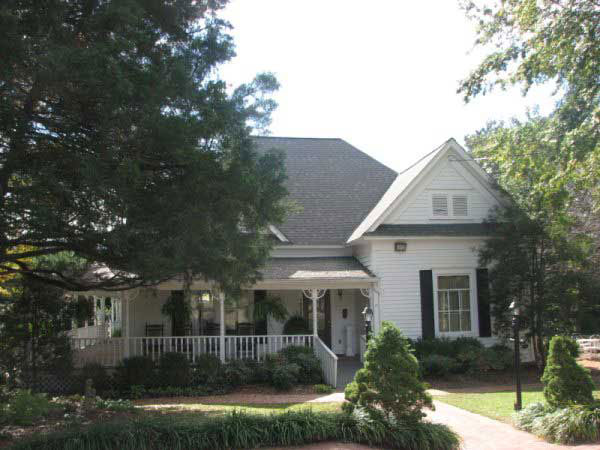 As recounted by Kay Thompson, former President of The Alpharetta Garden Club.
The Alpharetta Garden Club was founded on March 20, 1973 by Gloria Mote. Mrs. Dovie Hagood was the first President of the Club in 1973. The garden club began meeting in basements of members homes and later moved to Providence Park off Mayfield Road in Alpharetta. Next the club moved to the Senior Citizen Center in North Park on Cogburn Road where they were able to plant flower beds. They were severely handicapped at this location because there was not a good way to water the plants, making this an unsatisfactory place for the garden club. The garden club began looking for a better location to meet and create gardens.
In 1987 Herman Miller, a furniture manufacturing company, bought a farm located on Mansell Road to build a warehouse and distribution center. The Superintendent of construction and his staff used the house as their office during the construction of the project. The farm had belonged to the Mansell family, a prominent family in Alpharetta.
The Alpharetta Historical Society wanted to save the 1910 vintage Victorian style farm home from destruction. After many meetings and fund raisers, Marjean Birt – the Executive Director of the Alpharetta Historical Society, convinced the city to help pay to move the Mansell House to Old Milton Parkway. The house became a part of Wills Park, owned by the City of Alpharetta. The house began to serve as an event facility for weddings, receptions, art exhibits, business lunches, and other functions. In 1992 Mrs.Birt asked several members of the garden club if they would be willing to plant flower gardens at the Mansell House. Five ladies volunteered to plant the flower beds: Kay Thompson, Meg Windsor, Louise Beavers, Marge Young, and Joyce Tidwell. After many years of moving from place to place to hold their meetings the ladies were overjoyed with the prospect of how these gardens could look with a lot of planning and tender loving care. The Mansell House could be a permanent place where the club could hold their meetings; the opportunity to create flower beds was an added bonus. They visualized a real southern garden with lots of old plants in place for outdoor weddings.
The Alpharetta Department of Recreation and Parks provided the Alpharetta Historical Society a new home for their organization in exchange for their care of the historical house. They offered the Alpharetta Garden Club the opportunity to create the gardens around the house; planting and maintaining the grounds in exchange for the use of the house for their monthly meetings. The garden club accepted the offer and their first meeting in the Mansell House was held in May 1995. The Alpharetta Garden Club continues to hold their meetings and special events at The Mansell House and to maintain the gardens for the City of Alpharetta.