UPCOMING EVENT

~ BY POPULAR DEMAND:
SATURDAY AND SUNDAY, DATES TO BE ANNOUNCED – ALWAYS IN APRIL 2024 !
PLEASE JOIN US FOR ONE OF THE BEST PLANT SALES IN ALPHARETTA!
"PASS A LONG" Plant Sale
Plants will be spread out over the grounds of the beautiful Mansell house.
"Rain or Shine"
DO NOT MISS THIS ANNUAL EVENT ~
Saturday -TO BE ANNOUNCED…….9:00 am-4:00 pm 
Sunday – TO BE ANNOUNCED ………..10:00 am-3:00 pm
Mansell House ~ 1835 Old Milton Pky, Alpharetta, GA
From The Mansell House Gardens and Members Personal Gardens.
Everything From Perennials, Annuals, Houseplants to Shrubs including expert advice from our garden members.
******************************************************************************************************************************************
Past Events
Annual Scarecrow Harvest Event in Downtown Alpharetta
Alpharetta Garden Club Holds Hands-on Demonstrations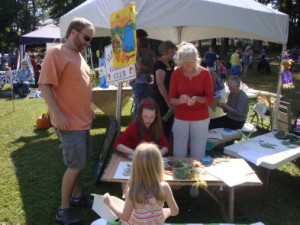 Over 150 enthusiastic children, ages 2 through 8, participated at the Alpharetta Garden Club's "Art with Plants" and "Seeds, Roots, and Shoots" hands-on demonstrations booth at the 8th Annual Scarecrow Harvest Event held in conjunction with the Scarecrow Festival.
Children used crayons, paper, and a variety of leaves. They created fun art rubbings of the leaf shapes and took them home to enjoy. Some children chose the seed activity. They planted lima beans and corn kernels in clear plastic cups, which were taken home to observe how seeds sprout.
Club members shared planting advice and ideas with parents. Seed pods of the lovely purple hyacinth bean vine were give to the adults along with planting suggestions and tips. This vine, started from seed by one of our members, grows along the fence at the Mansell House and provides a showy display during its long blooming season.
---
The Alpharetta Garden Club is honored by having Bettye Trankina
As a member of our club: She has been selected as the …
Dogwood District Woman of the Year 2011
Bettye Trankina
Congratulations to an amazingly talented lady!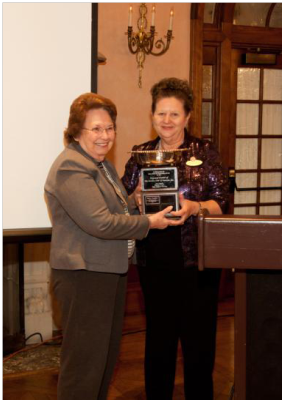 Bettye chaired the Hallie P. Brown Flower Show School, which was an amazing multi year commitment stretching from the planning phase in 2004 to the conducting of the four courses, the last of which was in April, 2007, and she's still giving final exams to students of that school. Although the flower show school was sponsored by a club in another district, the work was tremendously important to Dogwood District. Nine dynamic Dogwoods attended that school, and all are judges today as a result of that opportunity.
This impressive lady didn't rest on her laurels after chairing the flower show school. She served the Designers Club as its president during the 2007-2009 term, then as Parliamentarian, Historian, Flower Show Chairman, and member of the Finance Committee during the 2009-2011 term .She is presently treasurer of Designers, as well as Schedules Chair for the flower show Designers is sponsoring in May, 2012. Again, although Designers is not a member of Dogwood District, it is important to us because no fewer than 16 Dynamic Dogwoods are members and benefit from the opportunity for continued study that helps us to be better flower show judges. Now, with all that going on, one would think a person wouldn't be doing much in her own garden club. Well, not this lady. She has served Alpharetta Garden Club as a 3rd Vice President, Field Trip Committee Chairman, and Board Advisor. She keeps Alpharetta Garden Club updated on District, State and National information and has given several programs on floral design and how to enter a flower show.
Speaking of tips on how to enter a flower show, this lady actually co-authored a 2009 publication describing in detail how to conduct a standard flower show. That publication is currently being used by hundreds of NGC members throughout the US and was a major fundraiser for the Designers Club.
Our Dogwood District Woman of the Year is a Master Flower Show Judge whose work has been showcased in the GCG calendar and is the recipient of a Calendar District Award. She has chaired the Yellow Daisy Flower Show. She is a member of the Southeastern Horticultural Society. She is the treasurer of the North Georgia Council of Flower Show Judges. Our Dogwood District Woman of the Year served on the board of The Garden Club of Georgia, Inc. during the 2009-2011 term as Chairman for the flower show grant special project "Flower Shows Will Flourish." She currently serves on The Garden Club of Georgia, Inc. board as the Flower Show Symposium Chairman.
She has been very active at the district level and is currently our Corresponding Secretary. She also chairs Arboreta & Botanical Gardens, as she has since 2005, and Flower Show Schools and Basic Design I, as she has since 2007. She also served during the previous term as flower show grant chairman. In March of this year, our Woman of the Year chaired "Treasures", a spectacular Petite Standard Flower Show, for Dogwood District—the first show sponsored by the district in several years.